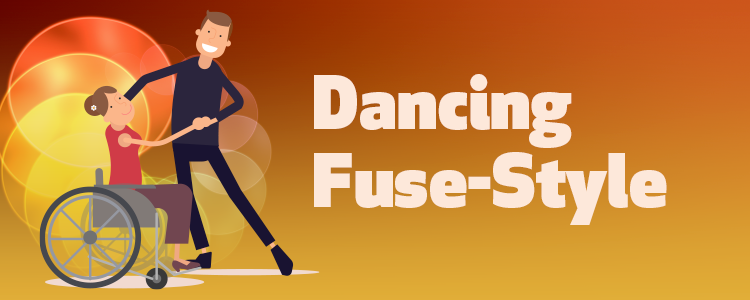 In 2015, Vince Preap, leader and teacher at Fuse Wheelchair Dance, took part in a research study with ICORD, the spinal cord injury research centre of the UBC Faculty of Medicine and VCH Research Institute. The study was looking at the health impact dancing had on persons living with a spinal cord injury. While Vince had been enjoying wheelchair dancing on and off since 2008, this research project offered something new: enjoying a dance lesson designed specifically for wheelchair users. Sadly, after the study ended, no follow up ever came out of it. That's when Vince decided to form the Fuse Wheelchair Dance group.
In 2008 a friend of his, also a wheelchair user, invited him to Suburban Swing in Abbotsford. That first time did not go so well. He felt very self-conscious and had trouble with rhythm and timing, in his own words: "I just felt silly trying to learn how to dance in my wheelchair." He didn't try again until a few years later, and stuck with it ever since, slowly getting the hang of things. His dancing gradually improved, he started having more and more fun and hasn't looked back.
After the ICORD project Vince decided to create a dedicated environment where wheelchair users could go to take dance lessons. He started the Fuse Wheelchair Dance group where participants engage in social partner dances like swing, bachata, salsa, and ballroom dance. The motto is "Fusing together wheelchair users and stand-up partners in dance".
No prior experience is necessary and if dance partners are needed: there are always some very enthusiastic standing volunteer dancers available!
Fuse's goal is to provide an inclusive and fun environment where people of all abilities can learn to dance at a weekly dance social. They are meeting on Saturdays from 11am-1pm at the Blusson Spinal Cord Centre in Vancouver. It is completely free, and 100% volunteer-run and it relies on the generous support of local charities, foundations, and individuals. To find out more please visit Fuse's Facebook page.
For further inspiration you may also want to check out these 2 websites:
https://www.technologyforliving.org/wp-content/uploads/2018/10/FuseStyle.png
300
750
TFL
https://www.technologyforliving.org/wp-content/uploads/2019/08/Technnology-For-Living-logo-reverse.svg
TFL
2018-10-15 09:00:52
2019-10-17 23:20:42
Wheelchair Dancing 101