PROP
PROVINCIAL RESPIRATORY OUTREACH PROGRAM
Education, equipment and therapy for people living with neuromuscular disorder or chest wall restriction.
TIL
TECHNOLOGY FOR INDEPENDENT LIVING
Environmental control systems that assist people with physical disabilities to control devices in their homes and on the go.
Our Peers know about independence, challenges and the rewards of directing their daily lives. Come be a part of what we know!
---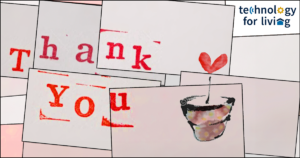 The largest gift ever to Technology for Living will establish the Stuart Belkin Education Fund. The $250,000 gift from BC philanthropist Stuart Belkin will provide equipment to reduce the barriers for people with mobility issues, enabling them to participate more fully in their homes and communities. On behalf of the Board of Directors, the staff, and the members of Technology for Living (TFL), we would like to express our deepest gratitude for this impactful gift.
---
We provide assistive devices and supports for members with physical disabilities – so you can achieve your goals and have the opportunity to participate fully in life.
You make the final decisions about what you need, and we do our best to meet those needs for you.
We continue to design our programs and services and adapt to changing needs and to changes in technology.
Personal & Advance Care Planning: Encouraging Self Determination
Learn how to avoid the uncertainty associated with the appointment of a TSDM or Private Committee and ensure that your wishes regarding your healthcare and financial affairs are respected.
Read the new article from the Balance Newsletter. By Ken M. Kramer, QC. Principal & Senior Associate Counsel.
The Balance Newsletter is published quarterly by Technology for Living. Subscribe here.
The work of Technology for Living is generously supported by donors like you and the following