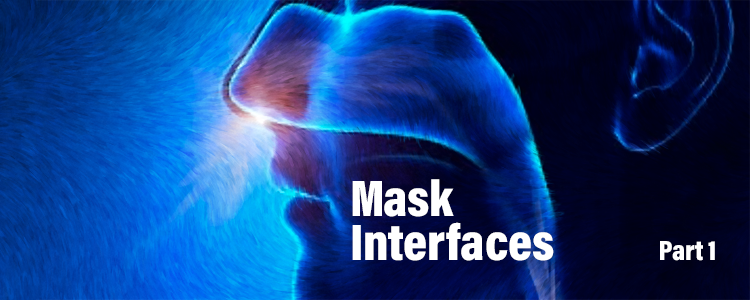 Different Types of Bilevel Interfaces
Mask interfaces have evolved over time to promote better compliance with positive airway pressure machines. Today users can explore a variety of different mask interfaces. PROP therapists are available to guide BCITS' members through the process of finding the most suitable interface. There are three main styles to choose from: a full face mask; a nasal mask; and, nasal pillows.
The full face mask is fairly bulky as it is designed to cover both the nose and the mouth. This style is useful for people who are mouth breathers or have a hard time keeping their mouth closed.
The nasal pillow interface inserts directly into the nostrils of a user without covering the entire nose. They are the lightest and smallest out of the three styles and targeted towards users who have trouble with claustrophobia and/or prefer masks that occupy less space. However, some users experience discomfort with air shooting directly up their nose.
The nasal mask falls between these two mask types and seals around the nose. When using a nasal interface, it is important to keep the mouth closed as the air will simply pass through the nose and escape from the mouth. Users may not notice this behaviour unless somebody observes the mouth is open while sleeping. Other signs suggesting this tendency to sleep with an open mouth may be waking up with a very dry mouth or the SD card download indicating a large leak. If that is the case, PROP therapists may suggest some alternative masks, like a full face mask, or using the nasal interface with a chin strap, or testing a new interface altogether.
Small amounts of leakage or a positional leak when turning and/or moving are common. Everyone's facial features are unique and there are no custom masks available. Most interfaces come in small, medium, or large sizes, offering sufficient choices to cover the majority of users.
[gdlr_quote align="center" ]TIP: It is important not to overtighten the headgear as that may lead to skin breakdown and pressure sores.[/gdlr_quote]
[gdlr_quote align="center" ]TIP: If the mask is very old and worn, the cushion may need to be replaced to have a proper seal. With proper maintenance and cleaning, many manufacturers claim their interface should last between 6-12 months.[/gdlr_quote]
Having an appropriate and comfortable interface is key for a successful therapy. Please contact a PROP therapist for any questions.
https://www.technologyforliving.org/wp-content/uploads/2019/10/Mask-Interfaces.png
300
750
TFL
https://www.technologyforliving.org/wp-content/uploads/2019/08/Technnology-For-Living-logo-reverse.svg
TFL
2017-12-07 12:37:21
2019-10-17 23:20:43
Different Types of Bilevel Interfaces