All I want for Christmas is a TIL control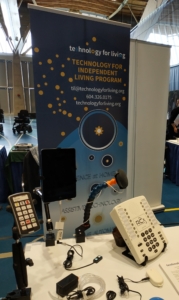 Yes, I said that, and my friends responded with a chuckle. I meant it with a note of humor but underlying that is a serious reality: for those with disabilities that need special devices to access everyday electrics, this is no laughing matter.
As a person with a spinal cord injury, and various related challenges, I can tell you that if it weren't for Technology for Living (TIL), my health would be at serious risk, my productivity greatly reduced and my independence next to nothing – if it weren't for the specialized controls they offer. Without those controls, I would most certainly require minute to minute, 24-hour support from another human being.
Yet, with a bevy of switches, transmitters and receivers, ultrasound, infrared and radio frequency, an inaccessible household can be transformed into the height of accessibility. One switch bumped with my hand (yes, I have some arm function, but no finger control) and the light comes on. Another and the MP3 player stops or starts. Three successive taps on a single button leads to a multi-function control called a GEWA engaging TV on/off, volume up or down, menus activated or selected and various other functions. Welcome to the Smart Home, a home that permits a person, even with severely limited physical ability, to control many electrically powered objects in their home.
When I first became acquainted with TIL's service, reminiscent of the elves in Santa's workshop, do such nice things for people, but I shouldn't ask for too much. But while a humble, gracious approach is a good start, I've learned since that confident and forthright requests will save everyone's time. After all, TIL's unofficial motto is "what would you like to do and how can we help you access it?"
As one who likes to think big, I'm happy to say that TIL is right there, just a phone call away. Here is a good example: I absolutely depend on my telephone — for 911 and other essential services. Due to physical limitations, I am unable to use a smartphone and or any other traditional telephone. On top of that, I had three telephones (I kid you not!) malfunction in a period of two weeks. After that I said no more single phone line, thank you very much. Now I have two phones in each room, operating on separate lines with separate access controls. Another example: I decided to take on a small business venture, one that requires being fully up to date on current events. I wanted to install two medium-size and one very large flat TV screen: one screen delivering Canadian news, the second American/international news and on the large third screen, an up to the second data feed of single-line news items.
I expected the TIL technician to be daunted and say, "listen buddy, you know there is a limit to what we do." But no, I was pleasantly surprised again, when TIL simply responded, "all right, you design the layout and explain how you want it to work, and we'll make it happen."
Afraid that you may not have the ability to use any of the equipment? Don't worry: TIL can provide the systems to accommodate, even if one has little more than mouth function. I used a "Sip and Puff" control for many years, before my limited arm function improved and became more useful.
Some companies have developed all-in-one-solutions, using voice controls. I personally choose to be as careful as I can to protect my privacy especially after one notable mishap. It's utterly important to me to keep my personal data as secure as possible. I have huge issues with multinational corporations collecting personal information, from my buying habits to every imaginable, statistically analyzable characteristic going as far as harvesting data about people I am in contact with. For those who prefer these all-in-one-solutions: TIL is just as able to help in setting up these controls as well.
So, this delightful story continues. The jolly elves at Technology for Living's TIL department bring happiness, good cheer and the gift of accessibility, to anyone wishing to gain more functionality in their home.
Merry Christmas to all – and to all an accessible device!
Arjo
Vancouver, BC
https://www.technologyforliving.org/wp-content/uploads/2019/12/switch-scaled.jpg
1920
2560
TFL
https://www.technologyforliving.org/wp-content/uploads/2019/08/Technnology-For-Living-logo-reverse.svg
TFL
2019-12-24 01:19:46
2019-12-25 01:42:15
All I want for Christmas is a TIL control