New partnership will provide cough assists for adults in British Columbia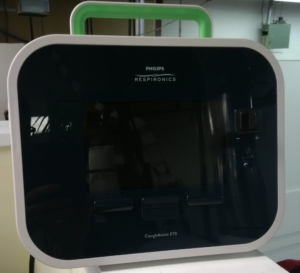 Vancouver, British Columbia – British Columbians living with a neuromuscular disorder will soon be able to breathe easier thanks to a partnership between Muscular Dystrophy Canada (MDC) and Technology for Living.
The partnership will provide cough assists for adults in BC, who do not have access to this critical piece of respiratory equipment, and to evaluate their health outcomes. Currently, provincial funding for cough assists is only available for children up to the age of 18.
Neuromuscular disorders can contribute to tremendous respiratory challenges; persons impacted are prone to infections and pneumonia. Cough assists can help to prevent these types of complications and improve quality of life. Best practice is that individuals with a neuromuscular disorder that have respiratory involvement start using a cough assist at approximately eight years of age. Unfortunately, once a person reaches adulthood, funding in British Columbia is limited and most people don't have the financial means to purchase a cough assist themselves.
The Provincial Respiratory Outreach Program (PROP) provides education, equipment and respiratory assessments for people living with neuromuscular disorders in BC. Under this new partnership, adults who are registered with MDC can apply for a cough assist through PROP.
"It's thanks to the support of donors, fire fighters, event participants and our family of chapters, that MDC is able to participate in this partnership with PROP to provide cough assists and evaluate the health outcomes of the individuals receiving this vital equipment," said Stacey Lintern, Interim CEO, Muscular Dystrophy Canada.
"This partnership will help to address the respiratory support needs of the neuromuscular community in British Columbia. However, this funding will only address a small portion of the need," continues Lintern. "Persons impacted with neuromuscular disorders need access to cough assists; and, we're committed to working with PROP and the provincial government to provide access regardless of age."
"As more people with health conditions are living and working at home, it is important that health services meet those needs. In this particular need, it is supporting the basic act of coughing to clear secretions, to keep the lungs healthy," says Esther Khor, Registered Respiratory Therapist, Manager of PROP. "PROP is excited to collaborate with Muscular Dystrophy Canada, to support the trialing of cough assists in the home. The goal is to learn, identify and support solutions for individuals with neuromuscular conditions. Together with Muscular Dystrophy Canada, we are taking a step together to keep respiratory health a priority. "
ABOUT MUSCULAR DYSTROPHY CANADA (MDC)
Muscular Dystrophy Canada's mission is to enhance the lives of those impacted with neuromuscular disorders by continually working to provide ongoing support and resources while relentlessly searching for a cure through well-funded research. To learn more about MDC, please visit muscle.ca or call our toll-free number at 1-800-567-2873.
https://www.technologyforliving.org/wp-content/uploads/2020/06/E70-cough-assist.jpg
2229
2448
TFL
https://www.technologyforliving.org/wp-content/uploads/2019/08/Technnology-For-Living-logo-reverse.svg
TFL
2020-06-12 21:03:49
2020-06-22 19:51:04
New partnership will provide cough assists for adults in British Columbia