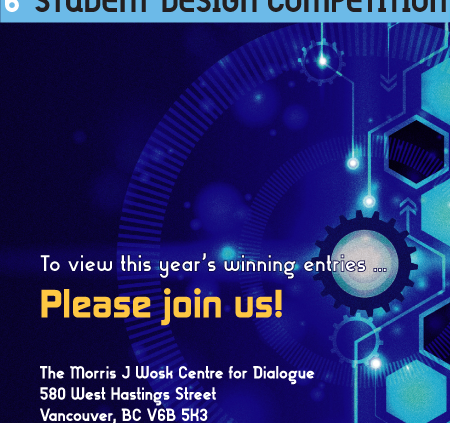 Simon Cox Student Design Competition Awards 2020
The Technology for Independent Living (TIL) program, housed by Technology for Living, has a long history of successes, we are always looking for fresh solutions to support our members to overcome structural challenges and hurdles when living independently in their homes. This is where our annual Simon Cox Student Design Competition comes in!
For some people, living at home is a bigger challenge than meets the eye. The Simon Cox Student Design Competition connects biomedical engineering, design and technology students from universities and colleges from across BC with people living with disabilities. They come together to form teams to create innovative biomedical, assistive and home automated solutions so people with disabilities can live independently in their home.
For the last few months, ten teams from four academic institutions that are competing in the 2020 competition have worked on their varied projects, moving from idea to a first model, engaging in revisions, performing testing and finally settling on a prototype which they will showcase at this event.
Over the last 6 years, teams have conceived and worked on many remarkable projects, from voice activated switches to mechanical blanket movers. These devices are subsequently installed in homes after TIL's biomedical technicians have vetted and refined them. This remarkable competition is just one of the ways that TIL seeks to create and adjust technological devices to provide options for people living with disabilities in their home.
Students can enter their projects in four categories and the winners are able to earn prize money up to a total of $5500. The four awards are the Simon Cox Principal Award, the Jeannette Anderson Achievement Award, the Terry Leblanc Innovation Award and the People's Choice Award.
This year the competition is being judged by three judges: Joanne Bengert (Disability Alliance BC), Ean Price (Innovation Strategist at TIL and owner of  ICAN Resource Group) and Wayne Pogue (Team Lead of Biomedical Engineering at Technology for Living). They will have a, no doubt, difficult time picking winners for 3 of the 4 categories. The last category is the 'People's Choice Award'. We are counting on the audience to help choose the winner of this award via ballot.
We are delighted to have Sally Felkai (Chief Information Officer at Emily Carr University of Art and Design) as the MC of the event. We would like to extend a huge thank you to the sponsors of this event: The BC Kinsmen Foundation, the BC Rehab Society and Tormax Doors.
Follow us at #PROP_TIL; #SIMONCOX2020 and on Facebook @technologyforliving
https://www.technologyforliving.org/wp-content/uploads/2020/03/SimonCoxCompetition.png
636
450
TFL
https://www.technologyforliving.org/wp-content/uploads/2019/08/Technnology-For-Living-logo-reverse.svg
TFL
2020-03-12 21:17:33
2020-03-12 21:17:40
Simon Cox Student Design Competition Awards 2020