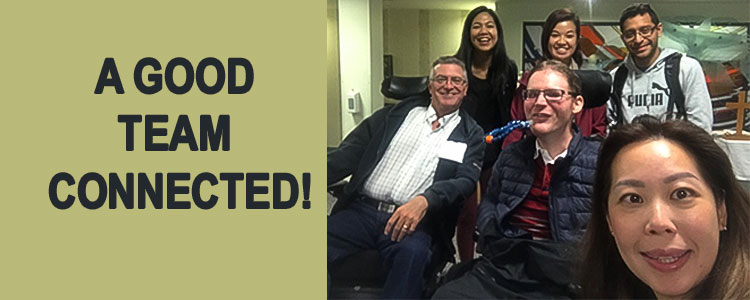 The Provincial Respiratory Outreach Program (PROP) is well known in the ALS community. So it came as no surprise when Alexandra Guerrero, a patient coordinator from the ALS Society, approached PROP a few months back, to ask for a presentation at their support group meeting to review PROP's services, especially for prospective new members.
After some discussion, it was decided that a joined presentation between a respiratory therapist (RT) from PROP and a member who has been using PROP's services for a while, would present a more complete picture of what the program is about. While the RT would explain about the application process how to access PROP services and the clinical benefits of bilevel therapy, the PROP member would add the human face to the presentation.
Michael Klinkhammer, one of the many members volunteering with PROP, agreed to join the presentation. Michael has muscular dystrophy and manages his respiratory needs with a bipap unit and mouth piece ventilation during the day. He has a very outgoing personality, an important asset to bring to any meeting.
During the meeting, 2 RTs reviewed various devices such as bipaps, ventilators and cough assist machines. These devices are accessible at no cost to users registered with PROP. This equipment reduces the discomforts of laboured breathing experienced by the respiratory muscles.
After the presentation, family members and ALS patients felt a little apprehensive about using breathing equipment. But their apprehension was put to rest after Michael described his personal experience, needing 24-hour ventilation, and how he had adjusted to the breathing equipment while continuing to live an independent life.
In the end the meeting was very successful because a good team connected: Alexandra Guerrero who coordinated the event; the caregivers assisting the attendees; RTs from BCITS providing information about therapy options; and a very enthusiastic peer who shared his experience.
It is important to remember that PROP members were the original founders of all services at BCITS. To this day they continue to provide peer mentorship.
https://www.technologyforliving.org/wp-content/uploads/2019/10/ALS-Meet.jpg
300
750
TFL
https://www.technologyforliving.org/wp-content/uploads/2019/08/Technnology-For-Living-logo-reverse.svg
TFL
2017-11-21 04:13:58
2019-10-17 23:20:43
PROP in the community