Welcome to our 3rd Fully Peer Co-Facilitated, Peer-supported, Virtual Creative Writing Workshop!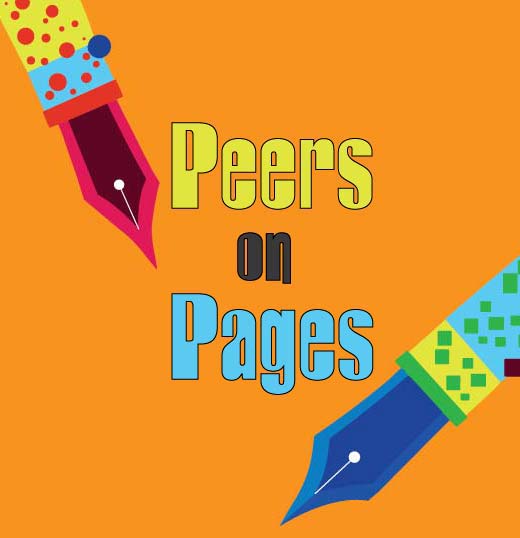 Peers on Pages (POP) is an online fully peer co-facilitated workshop that provides an opportunity to share writing and to receive feedback, writing tips and guidance. The facilitators will encourage, support and assist participants when requested. Limited personal one-on-one feedback outside of workshop sessions at Facilitator's discretion. There will be options for editorial consideration to publish through Technology For Living (TFL) communication resources.
The POP Workshop is fully peer co-facilitated virtually via Zoom by Nancy Lear; writer and TFL Peer Support Facilitator and three TFL peer guest writers.
There will be 6 Zoom writing workshops in total, once every 3 weeks, 2 hours each.
Writing Workshop Schedule (1pm-3pm)
First Meeting: Thursday, November 18, 2021.
Future meetings every 3 weeks: Dec 9, 2021 and Jan 6, Jan 27, Feb 17, and Mar 10, 2022.
There are 6 easy requirements.

Nancy Lear
TFL Peer Support Facilitator
I enjoy meeting new people and getting people connected. My role at Technology For Living (TFL) is to be supportive, engaged and assist our members through different collaborations. I support new peers who are coming onto the program and also those who have been around a while! I have over thirty years' experience volunteering in the non-profit sector and this has prepared me for my role. With my Bachelors of Arts degree in English, it has helped me in my work as well as in my leisure. I have worked on TFL projects such as the Peer History Project, Peers on Pages (POP!) writing workshop, and the Simon Cox Student Design Competition. I am an avid writer and some of my articles are featured in the Balance newsletter. I grew up in a family of nine children in Newfoundland, relocated to BC in 2013 and joined TFL in 2015. I am full of energy, when I'm not connecting with our peers, I can be found square dancing, travelling abroad and around BC. If you want to talk to me about peer issues or just have a friendly chat, send me an email or call me!

Monica Gartner
I currently work in the government sector. While working full-time for more than 20 years, I enjoy traveling and writing. I self-published my book called Overcoming the Impossible: A Life of Trials and Triumphs in 2016, and is currently working on putting the finishing touches on my first full length play. I am also working on a second book that has to do with travelling. I am taking on-line acting classes because I feel there isn't enough representation of people with disabilities in the film and TV industry. Happy writing every one!
Linda McGowan
Born in Montreal. I worked as a nurse in intensive care and the community. In BC, I am a consumer advocate for HandiDART for ten years, and currently am their community outreach liaison.
I wrote monthly in the Burnaby Health Department newsletter, "Healthvine" and the MS Society Shared Voices quarterly newsletter, "Beyond the Wind and Waves." I have published articles in the Vancouver Yachting Association and Abilities magazine. At the Surrey International Writers Conference 2012, I took 2nd place in the non-fiction writer's prize for my book; "Travelling the World with MS," a non-fiction memoir 2015. It was published by Influenced Publishing.
Mary-Jo Fetterly
My name is Mary-Jo, I have come face-to-face with Death twice but my will to live is tenacious and strong. A single mother of two amazing daughters, I spent my working life as a spa chef, entrepreneur, Blogger and Yoga teacher. I am passionate about human development and helping people live their potential no matter what the situation. I strive to be inclusive and sustainable in all I do. I believe in Murphy's Law and a MacGyver approach: always have a contingency plan, think outside the box, and do your best. I look forward to writing with you.
Peer Support: Participants will be sharing thoughts, observations and life experiences. Coming together as peers is a first step in providing a safe place for people to support each other, nurture the creative spirit and grow as writers.
Writing Experience: New writers, closet writers, rusty writers and published writers all are welcome.
Communication: Participants may read or have their work read by a member of our POP team to the group. Sharing your audio and video on zoom is encouraged.
Confidentiality: What is shared within the workshop sessions stays within the writing group. Respect the privacy and contact information of all workshop participants, including conversations and written work. Carers or family members involved with workshop sessions or home writing sessions must uphold these confidentiality expectations.
No judgements: Speak to your own experiences. Avoid judging others or making assumptions. We cannot speak for the experiences of other's lives and choices.
Work on speaking for yourself by using I Statements: Work on speaking for yourself by using I Statements: by identifying comments beginning with 'I' rather than 'You' or 'They.' This takes practice and we (oops I mean 'I') don't always get it right.
Diversity: When choosing to read/share writing, participants are asked to demonstrate sensitivity to differences, respecting the identities, backgrounds, life experiences and quality of life choices of all participants.
Feedback: This is a learning space too. The writer can choose to receive feedback or not. It can be a big step for a person to read/share their writing. We encourage sharing and supportive feedback.
Thank you for your contribution and cooperation. Now let's laugh, cry, share and connect as writers while making time to have fun!
Fill out the form below, once all applications are reviewed, someone will be in contact with you.